Hope Entertainment

"Stellar cabaret performers…"
- CV Forum
Past performances include: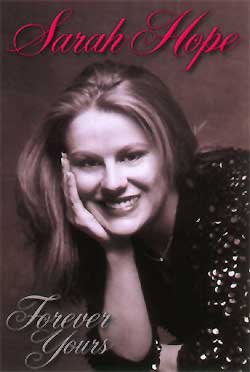 "Forever Yours"
"A San Francisco Gem" -ANG Newspapers
Sarah Hope solo performance. Directed by Teri Lynn Paul; musical director Joe Cross. Sold-out run at Manhattan's Don't Tell Mama; extended run at San Francisco's Piaf's. Selected songs: I Got Rhythm, Let the River Run, Looking for Love on Broadway, Gotta Lot of Livin,' My Foolish Heart. The duo has also performed the show in Palm Springs and several other California venues.
" 'Forever Yours' offers some nostalgic backward glances at the tribulations of young love…Hope's forte is in the youthful wonder she can bring to a lyric…delightful specialty numbers… Hope presents a fresh, ingénue appeal with just the right sass and pizzazz – think Nicole Kidman crossed with Drew Barrymore." - SF Frontiers & Guardian
I am often asked how I chose "Forever Yours" as the title of my show. I first heard this "Once Upon an Island" ballad in a Craig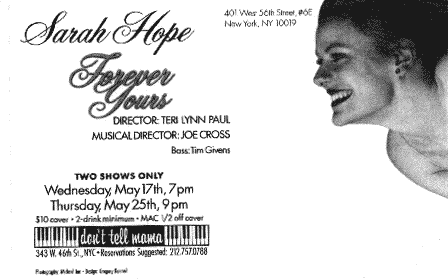 Carnelia class where it had been dubbed "the good luck song." Two classmates used it for auditions and landed the roles! The "luck" part was certainly attractive, but the lyrics were the real draw! "I am the tree holding away the storm," says it all for me--what more could you ask for in any relationship?
Creating a cabaret show is a treat. Through the songs I revisit friends and places, introducing them to my audience each night. It may be the middle of winter, but when I am singing "Under the Boardwalk," I can feel the heat of the summer sun. And no one will forget Bobby, "...the waiter in my heart!" or the Guide from "Acapulco."
"I Got Rhythm" was the most fun to arrange. You can't believe how many "I Got..." songs there are at the NY Library for the Arts. ("I Got Plenty of Nothing " etc,) The audience can have the fun of recognizing an old classic, yet hear it with a new twist. I love the freedom that the cabaret venue gives to me and the audience.
* * * * *
"A Wonderful Life: A Holiday Cabaret"
Sarah Hope & Matthew Liebowitz. Original script by Sarah Hope. Musical Director: Joan Edgar. Peformed at Piaf's in San Francisco. An evening of stories and songs to celebrate the holiday season – from the starry-eyed romance of "chestnuts roasting on an open fire," to the bleary-eyed reality of "calorie counting's a crime." Audiences describe the duo's show as "outrageous and exuberant."
"A San Francisco Gem" -ANG Newspapers
"I woke up Christmas morning, Thinking this could be the day, When things just might start looking up.....Things didn't work that way." So begins A Wonderful Life , a show with a realistic look at the month of December.
Audiences describe Take 2 as "outrageous," "exuberant," and "full of sass and pizzazz." Brother/sister duo Sarah Hope and Matthew Liebowitz intrigue you with an evening of stories and songs to celebrate the season. Joan Edgar, their pianist and musical director created fabulous new arrangements of standards, traditional carols, and some cabaret surprises.
Their hour show touches upon the many elements of the traditions of December: "Chestnuts roast on an open fire," "Santa Baby slips the sable under the tree." "I've got you under my skin." and "Calorie counting's a crime." These are just teasers of this not-to-be-missed holiday cabaret.
As Sarah and Matthew deliver each song, they take you on a sentimental journey of love, heartache, and laughter. This is a season like no other time of the year. Take 2 promises to make each of your events a memorable occasion. Sarah and Matthew love to work with the crowd. Upon request, songs can be personalized for your particular group.
"Joy to the fishes in the deep blue sea, Joy to you and me." More at the show...! (2000 Archive)
* * * * *
"Come to the Cabaret"
Sarah Hope & Matthew Liebowitz. Original script by Sarah Hope, created for Castro Valley Performing Arts Center kick-off fundraiser. Script & songs played off the siblings' days growing up in Castro Valley, interspersing Broadway favorites ("Music of the Night") with popular standards such as "My Foolish Heart."
"The duo enchanted and impressed the crowd with their gorgeous voices and polished stage personalities - showing how alike and how different siblings can be." -Castro Valley Forum
* * * * *
Go to Little Fox Theatre to buy your tickets for "A Perfect Relationship" now!