Hope Entertainment

"Stellar cabaret performers…"
- CV Forum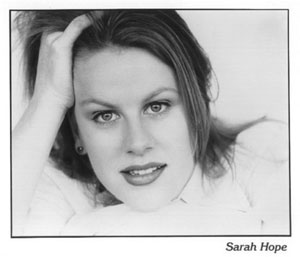 Sarah Hope
Seasoned cabaret performer and well-known Peninsula drama teacher Sarah Hope is a Bay Area native with New York creds and a sassy & romantic sensibility. Locally well-known as a singer-actress who warms up intimate venues, Hope honed her chops in New York and abroad to emerge as a performer of astonishing versatility, charm and pizzazz.
As a teenager, Hope owned the stage at Castro Valley High School, then took off for the Big Apple, where she graduated with honors in Musical Theater from NYU's Tisch School of the Arts. In addition to theatrical roles, European cabaret and a Saturday Night Live! appearance, Hope was featured in a dynamic, one-woman show, Forever Yours, at Manhattan's Don't Tell Mama cabaret. Her sell-out performances of witty monologues combined with lush renditions of popular standards resulted in an extended run.
Back in the Bay Area, where her family resides, Hope has since performed in Beach Blanket Babylon and put together two new cabaret shows, Forever Yours, at Piaf's in San Francisco and A Wonderful Life, also at Piaf's, a two-person outing with her brother, performer Matthew Liebowitz. Noted the SF Chronicle, "Hope presents a fresh, ingénue appeal with just the right sass and pizzazz – think Nicole Kidman crossed with Drew Barrymore." Hope and Liebowitz have since taken their shows on the road, performing at San Francisco's Plush Room, in Palm Springs, and in various private clubs and hotels throughout California.
As if a full-time acting career weren't enough, Hope also founded and runs Hope Musical Theatre. This after-school and summer camp program, taught by Hope and run according to the rigorous standards of her own New York training, has during the past three years introduced over 1,000 elementary school children to the joy of acting in musical classics like "Annie," "Peter Pan" and "Oliver!" In just three years, Hope Musical Theatre has become bywords for high quality among Peninsula parents. Hope herself enjoys a reputation as a multi-talented and well-loved performer and teacher.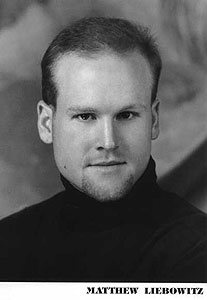 Matt Liebowitz
Castro Valley native Matthew Liebowitz has a dual life in the theater: his own singing/acting career and a thriving vocal studio. A performer since high school, Liebowitz is a well-known figure in the Bay Area musical theater and opera world. Among other performances, he has appeared in the American premier workshop production of the 3hree Musketeers at the American Musical Theater in San Jose, as well as a run of Phantom, also at the AMT. Liebowitz has also taken on roles as varied as Danilovich in The Merry Widow and Mortimer in The Fantastics.
In addition to performing in large-scale productions, Liebowitz has teamed with his sister, actor-singer Sarah Hope, to present original cabaret performances at Piaf's and the Plush Room in San Francisco. The brother-sister acts feature both singers' rich vocal talents and a combination of wit, longing and romance as they muse about the meanderings, mishaps and miracles of their individual paths in love and romance.
Liebowitz founded and runs a well-known vocal coaching studio in the East Bay, where his clients include recording artists and public speakers. Matthew brings a wide variety of experiences to his studio. His performing career encompasses opera, operetta, musical theater, cabaret, pop, drama, and comedy.
Matthew's teaching credits include: Director of Musical Theater, Castro Valley Performing Arts; Musical Director, 42nd Street and Anything Goes (CVHS); Assistant Musical Director, Fallen Star (New York City). Additionally, Matthew has worked as a contract vocal coach for Island Def Jam Records (Die Trying), Transcontinental Records (O-Town), Bad Boy Records (Dream), and Spunout Records (Townsend, Drist, Fighting Jacks). He is proud to have students working in theaters from the Bay Area to Broadway and with various opera companies nation wide. Matthew has also worked as a voice and diction coach for actors, public speakers and company executives throughout California.
Matthew's last theatrical performance was in the American premier of the 3hree Musketeers at AMTSJ as well as Phantom at the same company. Other recent credits include Billy Bigelow in Carousel, Charles in A Grand Night For Singing, and Count Danilovich in The Merry Widow. Matthew created the role of Charles Darney in the world premier of A Time For Courage and can be heard on the original cast recording. Previous recordings include work with Joe Linn Productions. Opera credits include the title role in Gianni Schicci, Liverotto in Lucrezia Borgia, and supporting roles in Die Fliedermaus, and Tales of Hoffman. He has been a guest artist twice under the baton of Maestro Lawrence Kohl. At the international level, Matthew was last seen in a month-long musical revue at the Ritz-Carlton Hotel in Osaka, Japan and has also been seen on stage in Stuttgart Germany, Paris France, Copenhagen Denmark, Oslo Norway, and Stockholm Sweden.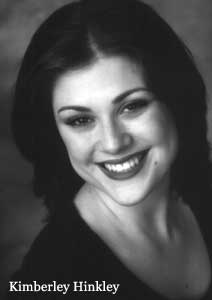 Kimberley Hinkley, Pianist
Kimberley Hinkley began her musical studies at the age of four with Beatrice C. Roberts, in Castro Valley. Her love of music quickly grew as she got older and she developed interest in song-writing. At the age of 9, she composed her first piece, "Beyond the Roses," which received excellent reviews in a statewide competition. While continuing piano studies and competitions, she became interested in singing, playing the guitar, and becoming a more well rounded musician.

She developed skills as an accompanist with the Bishop O'Dowd chorus, performing her original song, "If We Smile" at their liturgical services. While in high school she also wrote an original score to Shakespeare's "Twelfth Night" which she performed with the Bishop O'Dowd drama team in the spring of 1999. After graduating that June, she studied classical piano at CSU Hayward with internationally known pianist Ellen Wasserman, but still wanted to keep her musical "adventures" diverse. One day she received word that a local production of The Sound of Music, set to open in two weeks, had just lost their Liesl, and Kim jumped right on in, delivering a smashing performance while working her way into the local theater circuit. Recently, Kim was the musical director and lead mariachi for a community theater production of "La Posada," in which she arranged and taught the music to the performers and lead the ensemble through the performances.

Kimberley currently teaches piano to students in the East bay and has played throughout the bay area at weddings, parties, liturgical services and musical productions. She feels very lucky to know the Liebowitz duo and blessed to have Matt as her voice teacher and both of them as her partners in musical adventures! She sends love to her family, including her nephew, Max.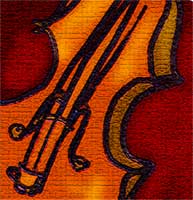 Devon Hood, Bass Player
Born and raised in San Mateo County. I came from a musical family and started playing the Violin at the age of seven. Though it was not quiet me so when I was fifteen I followed in the steps of my father by becoming a bass player. I've been playing in musicals since I was 17 years old. I was the principle bass player in the Peninsula Youth Orchestra for three years while attending Carlmont HIgh School. I am currently a student at Cal State University, Hayward, where I am a music performance major. I am currently a teacher and performer with the Fremont Youth Orchestra. I play in a jazz combo, the Ohlone Symphony Orchestra, and a local ska band. So I guess you could say I love to play all types of music. As long as I'm playing, I'm happy.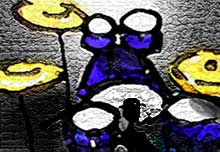 Mark Goldstein - Percussionist
Mark Goldstein is a freelance percussionist based on the Peninsula. He holds a degree from the Peabody Conservatory of Music and has recorded and performed many types of music in venues throughout the world. Local audiences may recognize him from his appearances with the Palo Alto Chamber Orchestra and The Redwood Symphony, or have heard him play with the Adlai Alexander group during the glory days of the Gatehouse in Palo Alto, or at Cafe Borone's in Menlo Park when it first opened. Mark has also brought live music to CalTrain stations, and written and performed electronic accompaniments to silent movies at the Stanford and Castro Theatres with organist Dennis James. Mark is also a software consultant specializing in audio technology and has worked for Gibson Guitar, Sony, and the computer music labs at Stanford, UC Berkeley.
Go to Little Fox Theatre to buy your tickets for "A Perfect Relationship" now!